VW and Audi DSG Gearbox ECU problem
(Mechatronic Control Module Fault)
The is a very common problem for all Volkswagen and Audi vehicle fitted with the DSG (Mechatronic) gearbox system.
The problem will normally be intermittent with the "PRNDS" light flashing and the gearbox going in to the neutral position. If left to cool down then the DSG gearbox will begin to work normally again. The fault will always become more permanent with time though.

PRNDS light flashing: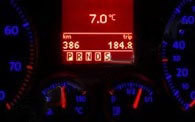 A replacement DSG gearbox ECU from the main dealer costs well over £900 plus fitting and VAT. We are able to fully rebuild your DSG gearbox ECU (Mechatronic control module) and provide a two year warranty for a fraction of the main dealer price.
Part Numbers:
02E927770E
02E927770G
02E325025AD
02E325025ADZ01
02E325025ADZ02
02E325025ADZ03
02E325025ADZ04
02E325025ADZ05
02E325025ADZ06
02E325025ADZ07
02E325025ADZ08
02E325025ADZ09
02E325025ADZ0A
02E325025ADZ0B
02E325025ADZ0C
02E325025ADZ0D
(This is just a small list of popular part numbers, we cover the entire range so even if you do not see your number here then we should still be able to rebuild your unit).

This DSG Gearbox ECU (Mechatronic Control Module) is fitted to the following vehicles:
Select your vehicle for more info or to buy now:
 
For full instructions for removing your unit please see:
DSG ECU (Mechatronic control module) removal instructions.
(Removal of your DSG Gearbox ECU should only be carried out by a qualified technician, we will not be held responsible for any damage that may be caused during the removal of your unit).
If you would like to arrange for your unit to be tested and rebuilt then please fill in this test form.
For further advice please contact us.