ECU TESTING are the market leading Automotive ECU (Electronic Control Unit) remanufacturer, offering first-to-market ECU remanufacturing solutions for the automotive aftermarket. We test and rebuild most common failing electronic control units (ECUs) for most vehicles on the road, including Engine ECU's, ABS modules, instrument clusters, transmission ECU's, electric power steering and more…
Every unit we rebuild is re-engineered to eliminate the fault and original manufacturing flaws. Every rebuilt unit comes with an unlimited mileage lifetime warranty* as standard.
ECU TESTING was formed in 2005, at that time there were only two permanent employees and a few product lines. The Company experienced stellar growth in the subsequent years due to our obsession with efficiency, fast turnaround times, work quality and keen focus on customer service and technical support. Our headquarters are now run from a state-of-the-art 30,000 square-foot facility located at the heart of British engineering - Derbyshire. We are expanding year-on-year as demand for our products and services continues to grow, from Franchise Main Dealers, specialist garages and general garage workshops around the world. We are proud to know that we are regularly used by over 12,000 independent workshops across the country.
"Our customers rightly demand the best, they rely on our Lifetime Warranty and world-class technical backup and support. To meet this high standard, we invest in the best talent the industry has to offer and constantly update our technology and infrastructure to ensure we retain our world beating market position." - R. Bagg (Owner & CEO)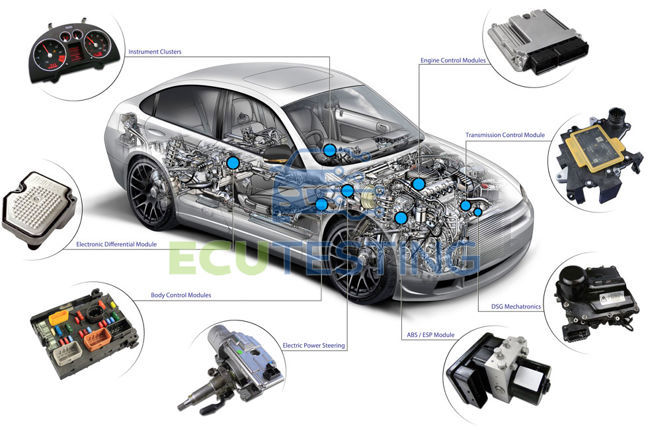 Our Standards...
Our enthusiastic dedication to meeting and exceeding our customers' needs is reflected by our ISO9001 quality management system accreditation.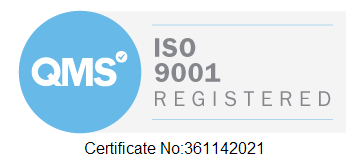 Our systems and processes are reviewed on a regular basis to ensure that they remain fit for purpose and continue to meet the requirements of our customers, employees, shareholders and other interested parties.
Our quality management system covers all aspects of our business, from initial enquiries and quotations through to test, remanufacture, delivery and after-sales service. We are committed to continual improvement of our processes and procedures and we regularly monitor our performance against our objectives and targets via the means of internal audits and those performed via external independent certification bodies. We also carry out regular customer satisfaction surveys to obtain feedback on the quality of our services and products enabling us to factor in the voice of the customer in all that we do. To learn more about the accreditation and to view our certificate please click here.
Our commitment to environmental excellence is fundamental to our success as a company and to sustaining the health of the planet. We integrate environmental considerations into all aspects of our business and are constantly looking for ways to operate more sustainably.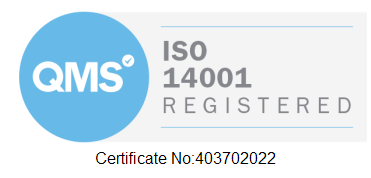 Our efforts are guided by our 14001 Environmental Management System, which encompasses a range of factors including: reducing our environmental footprint, promoting sustainable products and practices, and engaging our employees, customers and suppliers in our sustainability journey. To see what the accreditation is all about and view our certificate, please click here.
Our People...
We only hire the best people, even though we have world-class facilities and infrastructure, it is our people who are the driving force behind our industry leading position. Our people care about our customer experience, our industry best practice and our continuous improvement in service and support.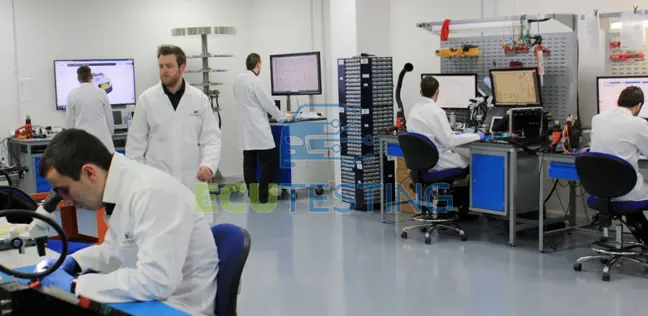 Technicians & Engineers
Our technicians & engineers go through intense in-house training, from basic level component handling right though to advanced electronic rework technology before they go anywhere near a customer's control unit.
Quality Assurance Engineers
Our QA team is responsible for ensuring any defects in our work or processes are identified early and procedures are developed to ensure continuous improvement. Any units returned under warranty are scheduled directly to the QA team to analyse the customers described fault, identify root causes and any potential issues with our work. We are proud of the fact that we have one of the lowest work defect rates in the industry, with constant internal reporting on individual technicians & engineers to ensure our defect rate is minimal and remains that way. This year our average work defect rate was just 0.49% so you can be assured of our very high standard of work and commitment to continuous improvement in our service and support.
Research & Development
Our large R&D team is responsible for reverse engineering automotive control systems in to order keep up with the latest changes in the automotive industry. They are constantly inventing new HIL (Hardware In-the-Loop) test systems, they devise new remanufacturing procedures that meet our stringent quality standards, and they are responsible for constantly refining current remanufacturing procedures.
Technical Support Team
We have a commited team who deliver best-in-industry support and backup to our customers, from basic support queries to complex programming and adaptation procedures, our technical support advisors are commited to excellence.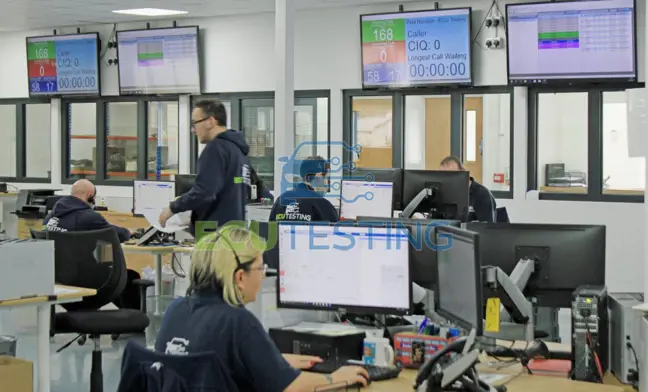 Our R&D Commitment
We are committed to investing a minimum 20% of our annual turnover in Research and Development activities, to ensure we are the first to market with new control unit re-manufacturing solutions, this ensures we are ready to service our customers as the next generation of control units fail just outside of the vehicle manufacturers warranty.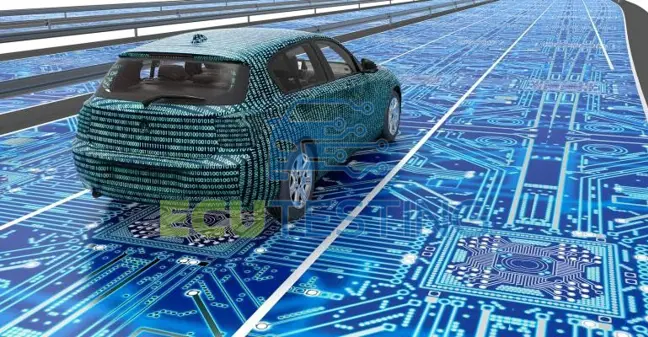 Our Technology
We are constantly updating our technology platforms, we build our own bespoke HIL (Hardware In-the-Loop) test solutions in-house, these HIL testing systems ensure that we are testing customers control unit in real-world conditions, such as load, heat, vibration and time. This bespoke technology enables us to accurately test for hard to find faults that customers commonly experience on the vehicle. We use the latest dealer level diagnostic and programming equipment (and constantly update these) so we can ensure control units leave us with the latest software installed and the immobiliser programming is never compromised. We also develop our own bespoke internal workflow software systems to ensure our operations are as efficient as possible allowing us to deliver the fastest possible service for our customers. From the moment you fill in our online test form your unit is automatically entered into our work-flow scheduling system, where you are updated at every step of the process, from when we receive your unit, through the testing and rebuild process, right up to the point of delivery back to you.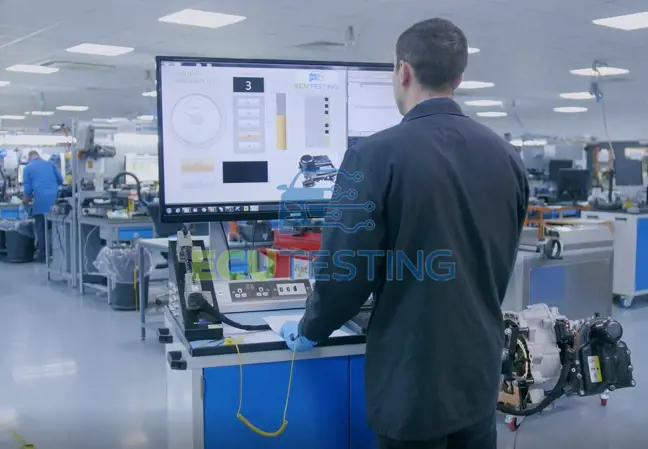 Our Infrastructure
Our 30,000 square foot facility has been designed to cope with the ever-increasing demand from our customers in mind, our facility has in-built flexible redundancy by design, this ensures we keep up with current and periodic surges in customer demand.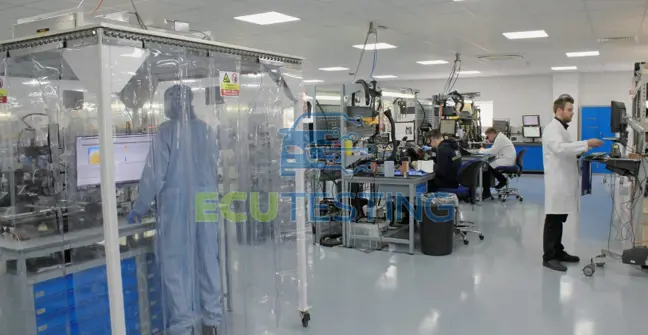 Our internal facility environment has been designed to incorporate a Lean Six-sigma workflow methodology, this ensures a seamless transfer of your unit through the various steps of our test and remanufacturing processes - from initial booking-in, to first-line testing, remanufacturing, to end-of-line testing and finally the packaging and shipping of your unit. All our workshops & lab-space are ESD-SAFE to ensure no control unit is ever electrostatically damaged under our care.
How to send your unit to us…
Fill out this test form with the fault symptoms and part details (this will automatically book your unit into our workshop). You will then receive a confirmation email with your reference number & full shipping instructions.


Package your unit in a sturdy box with plenty of packaging material, DHL will collect your parcel on the day that you have chosen, please ensure that your shipping label is securely attached.


Once we have received your unit we will fully test and inform you of the results, if the unit is faulty and you would like to go ahead then we will rebuild it, and ship it back to you on a next day tracked and insured courier service (if your unit is not faulty then we will return it to you and you only pay the test fee).
Our current turnaround time is approximately 2-3 working days (excluding weekends and public holidays).