Audi A4 or A6 with flashing "PRNDS" light problem on the dash.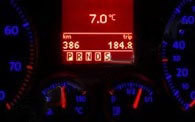 This is a fairly common problem for all Audi A4 & A6 vehicles fitted with the Multitronic gearbox.
Most of the time the gearbox will go in to fail-safe mode when the "PRNDS" light starts to flash and the gearbox will remain in fail-safe (limited function) mode until the ignition is cycled again.
Other faults we have seen include reverse gear not functioning or even complete loss of any foreword gears.
We have noticed the faults normally start out being intermittent - maybe only happening once every few weeks or so, but this soon turns into a permanent fault and can even leave you stranded if the gear box refuses to drive altogether.
The fault is normally always caused by the Multitronic gearbox ECU that is bolted directly on to the gearbox itself.
The main dealers are charging around £1400.00 to replace and reprogram these gearbox ECU's. We can now rebuild your Multitronic gearbox ECU with no need for any programming work to be done afterwards. Just plug in and go!
We give a full lifetime warranty with every gearbox ECU we rebuild.
You only get a 1 year warranty with a new one from the main dealer.
For more info or to Buy Now then please chose your vehicle:
If you would like to arrange for your unit to be tested and rebuilt then please fill in this test form.
Please contact us if you require further advice.