What is an instrument cluster?
The modern dashboard instrument cluster is a crucial part of any vehicle, and every vehicle has one. It is a collection of instruments, gauges, LCD screens and buttons set into the dashboard directly in front of the driver that provides valuable information at just a glance.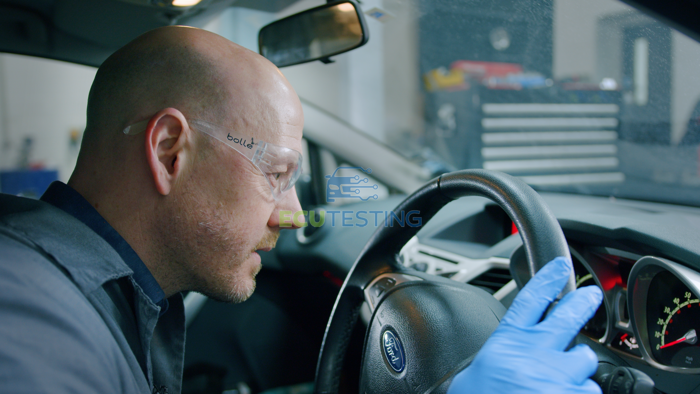 Components
An instrument panel typically comprises of the following components:
Speedometer (speedo) – measures and displays the current vehicle speed.
Tachometer (rev counter/RPM gauge) – measures and displays the rate of rotation of the engines crankshaft allowing the driver to make informed decisions on throttle activation and expected gear selection.
Fuel gauge – displays the remaining amount of petrol or diesel in the fuel tank. Hybrid and fully electric vehicles have a display showing the 'state of charge' of the battery along with the estimated range (distance) left before recharge is required.
Engine coolant temperature gauge (Temp gauge) – indicates the temperature condition of the engine coolant. A high or low reading may show if the vehicles performance is substandard.
Odometer (odograph) – measures and displays the total distance the vehicle has travelled.
Trip meter (trip odometer) – can be reset at any point, measures and displays distance the vehicle has travelled after resetting the counter.
Indicator lights – lights that show when a specific function is in use such as: turn signals, high beam, hazard and parking brake etc.
Warning lights – appear as forewarning/notification that action needs to be taken including: seatbelt, low oil, low tyre pressure, engine management (EML), ABS and traction control and airbag SRS (supplemental restraint system) warnings etc.
Sensors
As automotive technology advances, the dashboard instrument cluster evolves at the same time. Each section of the cluster used to have direct inputs from the measured component (the fuel gauge, for example, would be wired directly to the fuel sender in the vehicles tank) however with the advent and application of the engine management ECU in the late 1980's this changed. Modern vehicles have most of their sensors and control modules monitored directly by the engine ECU. This then transmits the information, often via inbuilt communication networks such as VAN or CAN bus, to the instrument cluster, which then decodes, converts and displays it in an easy-to-read format for the driver.
Whether it's a direct feed or transmitted by the engine ECU, the instrument panel will require a complex array of data from multiple sensors, including but certainly not limited to:
Vehicle speed sensor (VSS) or ABS
Engine coolant sensor
Fuel sender/sensor
Crankshaft sensor
Airbag/SRS
Seatbelt
Oil level sensor
History
Traditionally, analog gauges were used to display a measured parameter to the driver. This style provides a physical three dimensional trackable movement of the needle which is easy to read and understand. However, due to motor limitations, pre-printed increments on the gauge face and parallax errors (discrepancies caused by differing viewing angles) - this type of cluster is not the best for precise accuracy. The motors that drive the gauges are tiny and may not spin fast enough to display the correct value at the correct time, causing a delay.
Digital age
As the digital age progresses more and more manufactures are converting this technology to digital.
Digital LCD displays are more precise than analog ones and provide a better way of displaying information. For example these gauges can show you exactly what's going on with your engine without any guesswork involved with deciphering measurement increments, and parallax errors are a thing of the past. The information density expands exponentially and offers huge variety, allowing engineers some serious options when designing new systems or simply enhancing old ones by adding extra functions like multiple menu display modes, colour changes within certain modes and even the option for the driver to change the entire layout should they see fit. And with advancements in ultra-thin, ultra-flexible, ultra-light OLED displays in development at manufacturers like LG Displays, Visionox and Visteon -  response times will be slashed to 0.01 milliseconds, viewing angles will be vastly improved and clusters as we know them will cease to exist, with large displays  emerging in any shape the vehicle architects can dream up.
Modern Design
However, the contemporary instrument panel doesn't just receive and display information. The cluster will still receive direct inputs from which it will have to decode, process and transmit data out to other components as well as display the information for the driver. It also stores crucial information such as immobiliser and key transponder information, maintenance and diagnostic messages, and checks odometer readings against secondary readings often stored in the body control module. The internals comprise of a complex array of printed circuit boards, sophisticated motors, liquid crystal displays and lighting components all driven by onboard operating systems and programming. Some instrument clusters even act as a CAN bus Gateway, that is to say, is responsible for all data communication throughout the vehicle. If a cluster of this design fails, there will be no communication to any control module in the vehicle and this will cause a non-start scenario.
What goes faulty?
The short, but honest, answer is that anything and everything can fail on a dashboard instrument cluster. Most common reported malfunctions include incorrect or total loss of gauge readings, dim or no backlighting, LCD pixelation or no operation and even complete failure to turn on and communicate with the rest of the vehicle.
The reasons? The reasons are many. From defects in mass produced components, poor or overlooked design issues, heat and vibration from the vehicle itself to spilling your morning coffee over the dash cluster. That's not to forget external factors such as poor connections or loose wiring. Want to know how to diagnose your instrument cluster before sending it into be rebuilt? See our cluster diagnostic tips here
Have a faulty instrument cluster? Select yours here to get it repaired:
Test and rebuild
Our team of highly skilled technicians test each unit beyond the operating parameters for your vehicle on our Hardware In-The Loop rigs, both before and after repair. During the rebuild we make sure all components used meet or exceed original equipment manufacturer requirements so that once it's been rebuilt there will never be an issue again!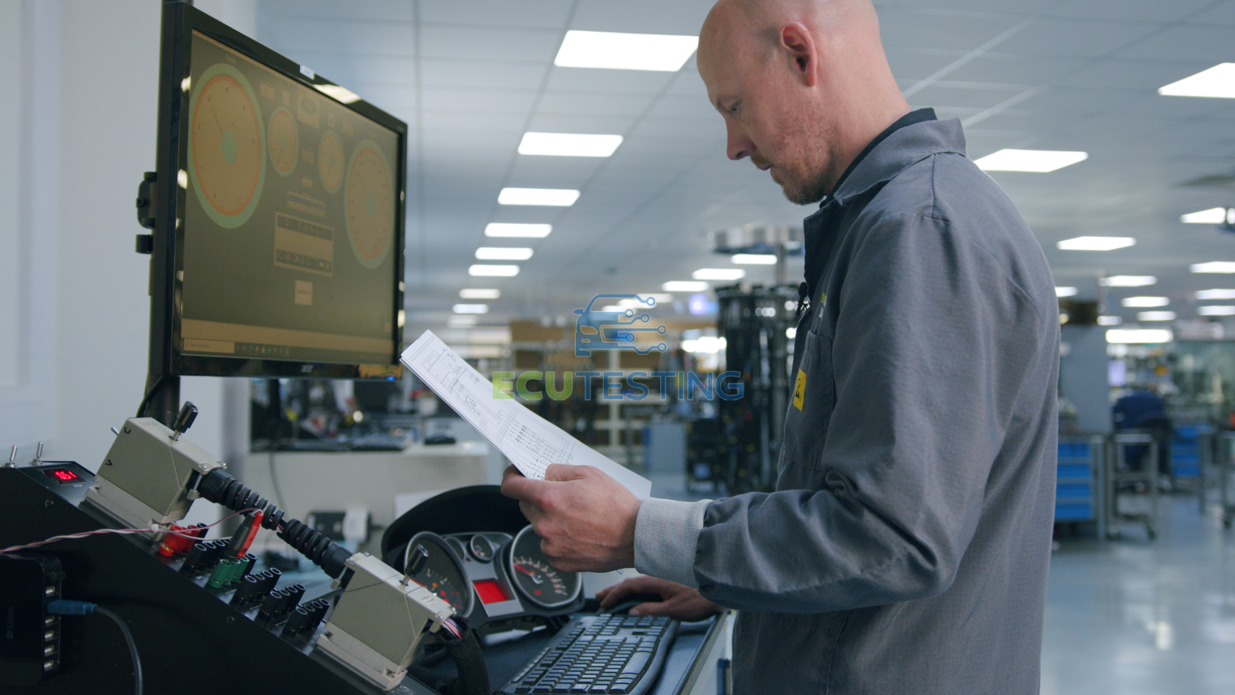 Programming:
All instrument clusters are programmed to the vehicle and the vehicle's immobiliser. This means that if you have a replacement you will also need to program the new cluster to ensure it works. However, sending your instrument cluster to us for rebuild negates this need. During test and rebuild all coding is retained – so no need for expensive programming when you receive it back.
Quality:
The rebuild work we do is world renowned; franchise dealerships and specialists around the globe benefit from our services. Our strict quality control standards mean that not only are you getting high-quality parts and service, but also a fantastic guarantee on them as well!
Warranty:
Lifetime unlimited mileage*
How do I get my unit rebuilt?
To pay for the rebuild click the Shop Now link above to view our product catalogue, select your vehicle and dashboard cluster and then click: Get yours rebuilt.
Print the payment/booking confirmation email.
Package the instrument panel/cluster inside a sturdy box with plenty of packaging material (make sure you include your confirmation email in the box).
Send us your package by tracked courier (the shipping instructions are on the confirmation email).
Once received we will test, rebuild and return your cluster with an unlimited mileage lifetime warranty. (if your unit turns out not to be faulty then we will refund your payment less a small testing fee and return shipping)
What if I don't want to pay up front?
This is not a problem, if you prefer this option then follow the following steps:
Fill in and submit this test form.
Print the booking confirmation email.
Package the instrument cluster inside a sturdy box with plenty of packaging material (make sure you include your confirmation email in the box).
Send us your package by tracked courier (the shipping instructions are on the confirmation email).
Once received, we will test your cluster and call you to advise on the outcome of testing, if your unit is faulty and you choose to go ahead with the rebuild then we will take payment over the phone using a debit/credit card.
We will then rebuild your cluster and return it to you with an unlimited mileage warranty.
If you require further information regarding any dashboard instrument cluster, then please contact us.