Your ECU will be comprehensively tested under all possible driving conditions most common ECU's will be tested using an automated test process. Other less common units will require a manual test.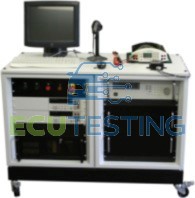 Testing prices: $70
If there is a permanent fault with your ECU no matter how small we will find it, our test procedure is a true engine simulation even atmospheric chamber conditions and engine vibration are simulated to an exact degree. We can also offer multiple testing for very intermittent driving faults such as occasional hesitations/misfires, non starting or brief cutting out problems etc.
If you are sending an ECU in for testing please make sure you fill in this test form and make sure the ECU is well protected in side a padded jiffy bag or postal box to ensure that no damage is caused in the postal system.
We test 1000s of ECU's for a full list please see our product catalogue, some ECU's may have different part numbers to those we have seen before but this does not mean we cannot test your particular ECU, each unit is tested on its own merits.