Volvo V70, S60, S80 & XC90 Instrument cluster fault
Own Unit Rebuild
This Volvo instrument cluster is a very common failure for most vehicles built from 2000 – 2003, the common complaint is that the instrument cluster will fail completely with no lights or working gauges, only the engine management light will remain on. The fault will usually start as intermittent (after driving for a few minutes), but will become permanent if left without correcting. You may also get the 'SRS-AIRBAG SERVICE URGENT' message show up on the instrument display.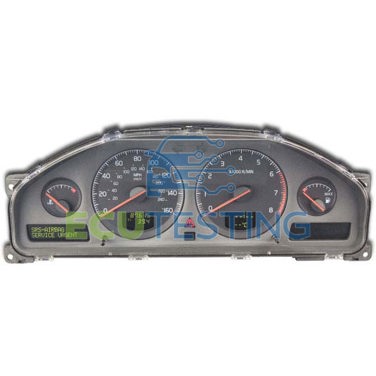 We are currently rebuilding customers own instrument clusters for this common fault.
Common stored fault codes:
SRS0004-SRS lamp faulty signal
DIM0002-ABS faulty circuit
DIM0003-SRS faulty circuit
DIM0005-red lamp faulty circuit
DIM0006-orange lamp faulty circuit
Warranty:
Lifetime unlimited mileage*
Quality:
We have rebuild these Volvo instrument clusters for Volvo main dealers and independent specialists all over the globe, so you can be assured of our very high standard of work.
For more info or to Buy Now:
If you would like to send your unit in to us to be tested/repaired then please fill in this test form and include it with your unit when you send it.
If you require further advice then please contact us.