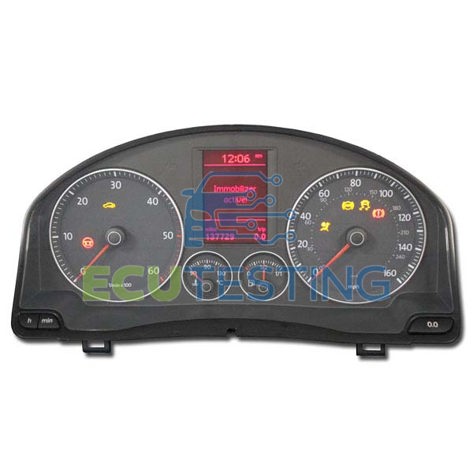 This is a very common problem for the Volkswagen Golf MK5 2003 – 2008, the most common symptoms are complete loss of instrument display and/or loss of rev counter/speedo.
We can rebuild your own unit and supply an unlimited mileage Lifetime* warranty, there is no need for any programming once you receive your instrument cluster back – just simple plug and play.
Your mileage and immobilizer will not be effected by the rebuild.
Common failure symptoms:
Complete/intermittent loss of instrument cluster
Loss of rev counter or speedo
Center display pixelated or blank
Gauges reading incorrectly
Immobiliser problems
Warranty:
Lifetime* unlimited mileage.
Programming:
No programming required following instrument cluster rebuild – simple plug and play.
For more information:
Volkswagen Golf MK5 (1K1) instrument cluster – Get Yours Rebuilt
If you would like to send your instrument cluster to be tested and repaired then please fill in this test form.
If you have any further queries then please contact us.