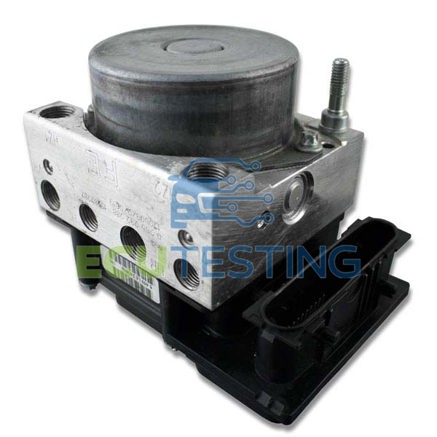 This Corsa (D) ABS pump is a very common failure for all Vauxhall Corsa vehicles built between 2006 and 2014, the common fault is complete lack of braking effort to the front left brake caliper, this results in the vehicle pulling to the right side of the road during braking. This can be dangerous during emergency braking conditions as the car will swerve quite hard to the right hand side during very heavy braking.
If you have tried to diagnose the problem then you will have noticed that no brake fluid is reaching the left side front brake caliper so it is impossible to bleed the left side front brake. This problem is caused by the left front outlet within the faulty ABS pump so no amount of flushing or bleeding will solve the issue.
Replacing the ABS pump with a new one from the Vauxhall dealer is a very expensive option and you will only get a 1 year warranty on the new part.
We are now able to fully rebuild your own Corsa ABS pump for a fraction of the cost of a new unit from the dealers.
We can also supply fully remanufactured replacement units directly from stock (when available).
Both options above come with our unlimited mileage lifetime warranty* as standard.

Testing and rebuild process:
We first test your ABS pump using our purpose built HIL (Hardware In-the-Loop) test-rig, this allows us to run the ABS unit as if it were on the vehicle by fully pressure testing your unit under all driving conditions. If your unit fails this test then we know it is faulty and can move on the rebuild stage – during this stage we fully strip your unit and replace all failed components, we also ensure that the unit will not fail again by eliminating the original manufacturing design flaw from within the ABS unit. We then retest your unit to confirm the rebuild has cured all issues before carefully packaging your unit and returning it to you ready to be fitted back to the vehicle.
Common failing part numbers:
OEM Nos: 0265800422 / 0265231537 / 0265232238
VM Nos: 93192753 / 13236012 / 13277812 / AQ / FB
(The above part numbers are a list of common failing numbers, if you do not see your part number here then please see the full list here)
Turnaround time:
Our current turnaround time to rebuild your own unit is approx. 3 - 5 working days.
Delivery time for a replacement unit from stock is currently 1 - 2 working days (when available).
Warranty:
Lifetime unlimited mileage*
Prices and options:
For full price/shipping information please see our Corsa (D) ABS pump product catalogue page.
If you would like to have your own unit fully rebuilt then you have two options regarding payment:
Pay in advance:
This option will allow you to pay for the rebuild in advance of the unit arriving with us, this is the faster option as we will not need to contact you once your unit has been tested, we will just go ahead with the rebuild if it is faulty and then send it straight back to you. To pay in advance for this service please click here.
Pay after testing:
With this option we will contact you for payment after we have received and fully tested your unit. Then we will contact you with the results of the testing and if it is faulty you can then decide if you want us to go ahead with the rebuild or not, it is at this point you would need to pay. This option is a little slower but gives you greater control over whether you want the unit rebuilding or not once it has been tested. If you prefer this option then please fill in this test form and we will immediately email you with full shipping instructions.
If you require further information regarding this ABS pump then please contact us.