This engine ECU is a very common failure for the Vauxhall Corsa 1.3 CDTi built from 2006 – 2013, the failure of the ECU is caused by water ingress due to the poor location of the ECU within the water drain channel under the windscreen.
We can rebuild customers own water damaged units or supply replacement remanufactured ECU's when in stock.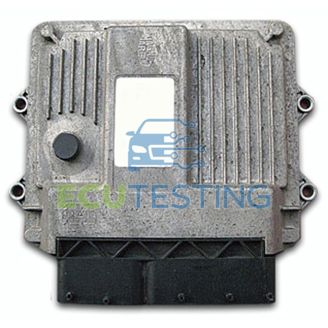 Because the common fault with this Vauxhall Corsa ECU is water damage we see a wide range of symptoms caused by ECU failure, the most common symptoms are:
Misfire on one cylinder
Will not rev past 1500 rpm
Non start intermittently
Complete non start and no communication via diagnostic.
Common customer reported fault description:
"Initially the car started to misfire/run rough and the engine management light would come on. Called out a mobile mechanic who came out and performed a diagnostic check and the fault code read injector number 4 faulty. When he came to change the injector the car would not start so he investigated further and found the ECU submerged in water"
Common Stored Fault Codes:
P0201 - injector 1 voltage low
P0202 - injector 2 voltage low
P0203 - injector 3 voltage low
P0204 - injector 4 voltage low
P2146 – Capacitor Voltage 1 Low Voltage
P1600 - replace ECU
P1625 - main relay intermittent
P060B - Replace ECU
P0608 internal control module defective
P1120 - pedal position sensors circuit 1
P1122 – Pedal position sensor circuit 2
P0683 - Glow plug circuit low voltage
This is a list of common fault codes, usually a failed ECU will only cause one or two of these codes to be stored.
ECU Location: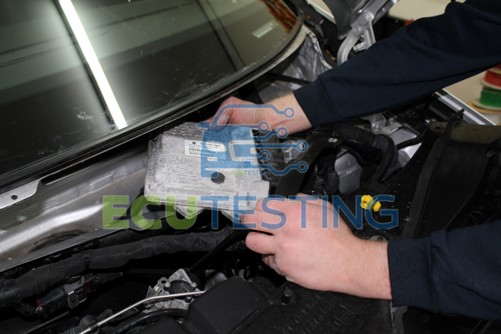 The ECU is located inside the bulkhead plenum chamber, the wiper arms and the plastic cowling will need to be removed from below the windscreen to gain access to the ECU and remove it. 
 
Common failing part numbers:
This is just a small list of common failing part numbers, if you do not see your number then please see our Product Catalogue for the complete range.
Warranty:
We supply an unlimited mileage Lifetime Warranty* with all our units.
If you would like to send in your ECU for testing then please fill in this test form and include it with your unit when you send it.
If you require further help or advice then please contact us.