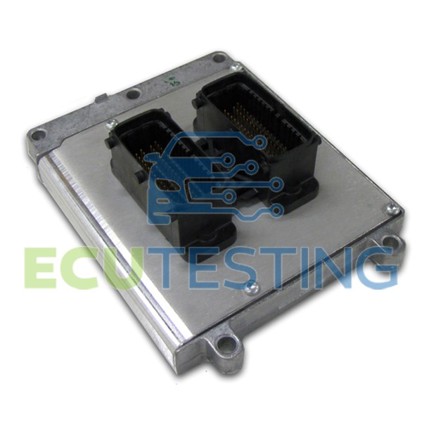 This Saab 9-3 engine ECU is a common failure that causes the engine management light to come on followed by the engine cutting out when hot, the car will then fail to restart until the engine cools down again. The ECU fault will usually start out as intermittent but will become more permanent with time. How long you need to let the engine cool down before it will restart can range from 20 mins up to 2 hours, depending on how bad the fault is within the ECU. A diagnostics check will usually return a fault code of "P0601 – Internal Control Module Malfunction", if you have this fault code stored then your Saab 9-3 engine ECU is most definitely faulty.
We are able to fully test, and rebuild your own unit with an unlimited mileage lifetime warranty.
ECU failure – Common symptoms:
Engine management light illuminated
Engine cuts out when hot and will not restart
Common fault codes:
P0601 – Internal Control Module Malfunction
Affected Vehicles:
SAAB 9-3 1.8/2.0 Litre 2003 - 2011
Common failing part number:
55353231
55565020
55567225
Test and rebuild:
We fully test your ECU on our HIL (Hardware In-the-Loop) simulator, this replicates the exact driving conditions of your vehicle and loads of your engine. Once the fault is identified we then move onto the remanufacturing stage, during this stage we replace all failed components with higher rated versions and rework the entire PCB (Printed Circuit Board) to ensure the failure does not occur again. Following the rebuild we then re-test your ECU to ensure the fault has been rectified before returning your ECU fully rebuilt with an unlimited mileage lifetime warranty.
Programming:
We retain all the original immobiliser programming and engine configuration data during the rebuild process, so there is no need to reprogram your ECU once it is refitted to the vehicle. It is a simple case of plugging it back in and driving away.
Quality:
Our work processes are second to none, we test and rebuild ECUs for Saab main dealers and specialist independent workshops all over the globe, so you can be assured of our very high standard of work.
Warranty:
All ECU rebuilds come with an unlimited mileage Lifetime warranty*
Price and product info:
(Select your part number to see price and product info)
How do I get my unit rebuilt?
Select your part number above and then click "Get yours Rebuilt"
Print the payment/booking confirmation email.
Package the ECU inside a sturdy box with plenty of packaging materiel (make sure you include the confirmation email in the box).
Send us your package by tracked courier (full shipping instructions are on the confirmation email).
Once we receive your ECU, we will test, rebuild, and return your unit with an unlimited mileage lifetime warranty. (if your unit turns out not to be faulty then we will refund your payment less the testing fee and return shipping)
What if I don't want to pay up front?
This is not a problem, if you prefer to pay after we have completed the work then follow the following steps:
Fill in and submit this test form.
Print the booking confirmation email.
Then follow steps 3 – 5 as above.
If you require further information regarding this ECU then please contact us.