This is a very common fault for Mercedes vehicles fitted with the 7G-Tronic automatic transmission with gearbox code - 722.9, often causing the transmission to hold too long in one gear before aggressively forcing the next gear into place, this causes a very rough and jerky gear change. The fault usually starts out as intermittent but always becomes permanent if left unresolved for long enough. The fault is caused by the TCM conductor plate breaking down internally, preventing the control module/conductor plate from monitoring the correct rotational speed of the input shaft, making it unable to determine the slippage of the torque converter, causing ineffective torque clutch lock-up that prevents a smooth gear change or in some cases prevents gear selection entirely. We can now fully rebuild your own control unit and supply an unlimited mileage lifetime warranty*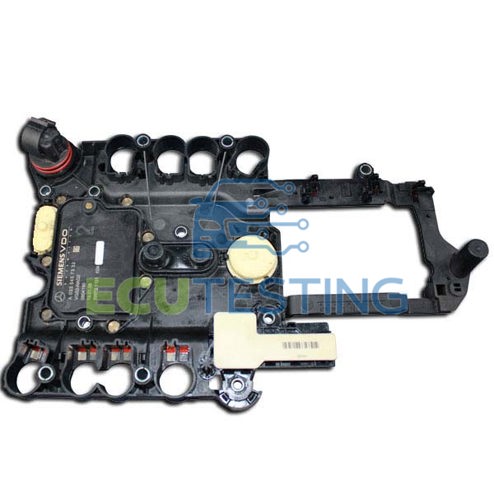 Diagnosis:
When attempting to diagnose the transmission fault it is best practice to have the fault codes read from the transmission system as a first point of call, if you have fault codes stored for the internal speed sensors then this is a very good indication that you have a faulty transmission control module/conductor plate.

Common fault codes:
0717 – The signal from component Y3/8n1 (Turbine speed sensor, VGS) is not available.
0718 – The component Y38n1 (Turbine speed sensor, VGS) is defective.
2201 – The component Y3/8n2 (Internal speed sensor) is defective.
0722- output speed sensor y3/8n3 output speed sensor VGS not available
0721- The transmission output speed signal is implausible when compared to the wheel rpm signal


Common fault symptoms:
Intermittently not changing gear
Gearbox goes into limp mode
Sticking in gear
Not selecting gears


Common failing part numbers:
A0335457332
A0034460310
A0335456732
A0009013000
A0009013200
A0009017100
A0009017000


Removal instructions: 
Drain gearbox oil


Remove oil pan & internal oil filter


Unscrew the 10 screws holding the valve body to the gearbox


Unplug the control module multi-plug connector and then remove valve body from the gearbox - do not use a pry-bar/screw driver to force the multi-plug connector from the gearbox housing when removing the valve body or it may break the connector.


Remove the 10 screws that hold the control module to the valve body

Remove the 8 solenoids that connect through the control module to the valve body (make note of their positions for correct re-installation)


Get your own unit rebuilt:
We can now fully rebuild your own 7G-Tronic control module and supply an unlimited mileage lifetime warranty for a fraction of the cost. When we rebuild your own control module we use higher rated components than standard, so you can be assured that once rebuilt, your control module will not fail again – this is how we are able to supply a lifetime warranty with every unit we rebuild. These control modules are programmed to the vehicles immobiliser and chassis number so it is not possible to fit a second-hand unit to the vehicle, the only option other than purchasing a brand new unit from the dealer is to have your own control module rebuilt. When we rebuild your control module we retain all the original programming so that you can just fit the unit back to the vehicle without any additional programming - simple plug and play.
Quality:
We rebuild these 7G-Tronic control modules for Mercedes main dealers and specialists all over the globe, so you can be assured of our very high standard of work. We use higher rated than standard components when we rebuild your control module so you can be assured that once your unit is rebuilt then it will not fail again, therefore we give an unlimited mileage lifetime warranty with every control unit we rebuild.
Turnaround time:
Our current turnaround time to rebuild your own unit is approx. 2-3 working days.
This 7G-Tronic control module is a common failure for the following vehicles:
C220 2.1 CDI AMG Sport (2007-2014)
C320 3.0 Sport CDI A (2007-2014)
CLK 280 3.0 Avantgarde (2005-2009)
E280 3.0 CDI Avantgarde (2005-2011)
E320 3.0 CDI Elegance (2002-2010)
Prices and options:
For full price/shipping information please select your vehicle from the list above.
 
If you would like to have your own unit rebuilt, then you have two options regarding payment:
 
Pay in advance:
This option will allow you to pay for the rebuild in advance of the unit arriving with us, this is the faster option as we will not need to contact you once your unit has been tested, we will just go ahead with the rebuild if it is faulty and then send it straight back to you. To pay in advance for this service please select your vehicle from the list above. 
 
Pay after testing:
With this option, we will contact you for payment after we have received and fully tested your unit. Then we will contact you with the results of the testing and if it is faulty you can then decide if you want us to go ahead with the rebuild or not, it is at this point you would need to pay. This option is a little slower but gives you greater control over whether you want the unit rebuilding or not once it has been tested. If you prefer this option, then please fill in this test form and we will immediately email you with full shipping instructions. 

If you require further information regarding this 7G-Tronic control module, then please contact us.