BMW 1 series (E87) & 3 Series (E90, E91) ABS DSC/ABS Pump
Common fault code: "5E20 - HYDRAULIC PRESSURE SENSOR INTERNAL"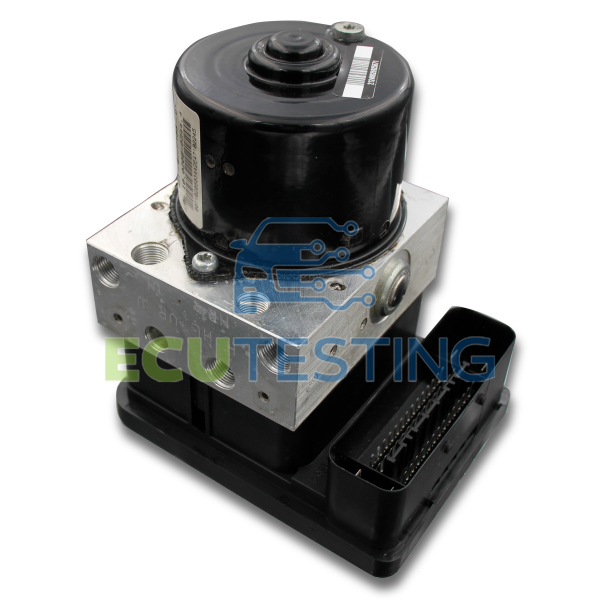 This ABS Pump is a very common fault for the following vehicles:
BMW 3 Series (E90 & E91) Built between 2004 - 2008
BMW 316i & 316D
BMW 318i & 318D
BMW 320i & 320D
BMW 1 Series (E87) Built between 2004 - 2009
BMW 116i & 116D
BMW 118i & 118D
BMW 120i & 120D
For vehicle built up until 2014 please see this page: http://www.ecutesting.com/common-faults/bmw/bmw-3-series-z4-1-series-abs-dsc-pump-fault/
If your BMW ABS Pump Module is faulty with the common BMW Brake pressure sensor fault, then your ABS / DCS (traction control) lights will be illuminated on the dash and you will be unable to turn them off. If you have taken your car for a diagnostic check then you would have the following fault code; "5E20 - HYDRAULIC PRESSURE SENSOR INTERNAL".
This fault code means that your BMW ABS pump has failed due to failure of internal Brake Pressure Sensor and will need to be replaced, the main dealer are currently charging over £1500 + fitting for a replacement unit. We can now rebuild your own unit and provide a Lifetime unlimited mileage warranty.
When we rebuild your unit we use higher specification components than standard so you can be assured that your ABS unit will not fail again.
Common faults:
ABS, ASC / DSC (traction Control) lights permanently on
Fault code: "5E20 - HYDRAULIC PRESSURE SENSOR INTERNAL"
Common failing part numbers:
Warranty:
Lifetime unlimited milage*
Quality:
We have rebuilt these ABS ASC/DCS pump modules for specialists and main dealers all over the globe for years now, so you can be assured of our very high standard of work.
For more info or to Buy Now, please select your vehicle below:
If you would like to arrange for your BMW ABS Pump to be tested and rebuilt then please fill in this test form
We test every unit before we rebuild them so if your ABS pump module turns out not to be faulty then we just charge a test fee and return it to you.
For further advice please contact us.