This is a very common fault for the Audi A4 2007 – 2014 whereby the instrument cluster fails intermittently.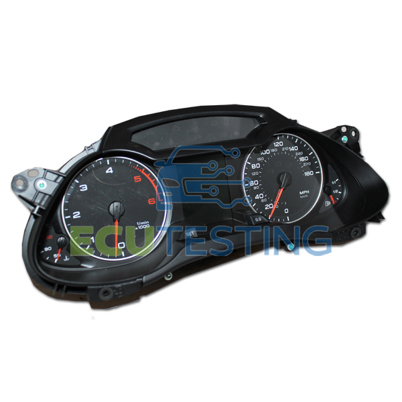 We can test and repair customers own instrument clusters with a lifetime warranty as standard, the most common symptoms of a failed Audi A4 instrument cluster are:
Complete loss of entire instrument cluster
Faulty centre display
Inaccurate fuel/temp gauges
Loss of speedo
Warranty:
Lifetime* unlimited mileage.
Quality:
We have tested and rebuilt Audi A4 instrument clusters for main dealers and Audi specialists all over the globe for many years so you can be assured of our very high standard of work.
Once we have repaired your A4 instrument cluster you can be sure that it will not fail again, because when rebuilding your instrument cluster we use high rated components than standard.
More info:
Audi A4 (8K) instrument cluster – Get Yours Rebuilt
If you would like to send your instrument cluster in to us to be tested and repaired then please fill in this test form.
If you require further advice then please contact us