What is a Brake Pressure Sensor?
The Brake Pressure Sensor is a sensor fitted to most modern vehicles fitted with dynamic stability control. The sensor measures the exact amount of braking effort being input by the driver, this measurement of braking effort is used by the dynamic vehicle control system to compensate the difference between what the driver wants to happen during braking and what the vehicle is actually doing.
The system uses multiple sensors that monitor the speed of each wheel, the body roll and rotation rate of the vehicle, acceleration, deceleration, steering input and traction to the road. The dynamic stability system then uses the ABS (Anti Locking Braking) pump to apply and release pressure to each road wheel with split second timing in order to attempt to keep the vehicle stable and safe during extreme driving conditions, such as excessive speed into a corner or in the event that the vehicle starts to fish-tail during emergency braking.
In modern vehicles the brake pressure sensor is normally located within the ABS pump and cannot be replaced separately from the ABS pump.
Common Brake Pressure Sensor failure.
Failure of the Brake Pressure sensor is very common for vehicles fitted with the ATE MK60 ABS system. This ABS system was widely used by most vehicle manufacturers looking to incorporate dynamic stability control for their model range roughly between 2002 and 2015.
Diagnosing and rectifying a faulty internal Brake Pressure Sensor.
To diagnose a faulty sensor, you will need to plug into the vehicles diagnostic port using professional level diagnostic equipment capable of communicating with the vehicles ABS system. Once you have gained communication with the ABS system, you then need to check for stored fault codes. If you have a stored fault code for 'brake pressure sensor malfunction' or similar then first attempt to clear the code, if it will not clear or returns after clearing then check the live data stream (sometimes know as 'measuring blocks') using your diagnostic equipment. Look for the value that is labelled as 'brake pressure' and note the reading. With your foot off the pedal, the pressure reading should be at zero, this will increase in value as you apply pressure to the brake pedal. If the reading is showing the maximum value constantly even with no pressure on the pedal, then this is a clear indication that your internal brake pressure sensor has failed.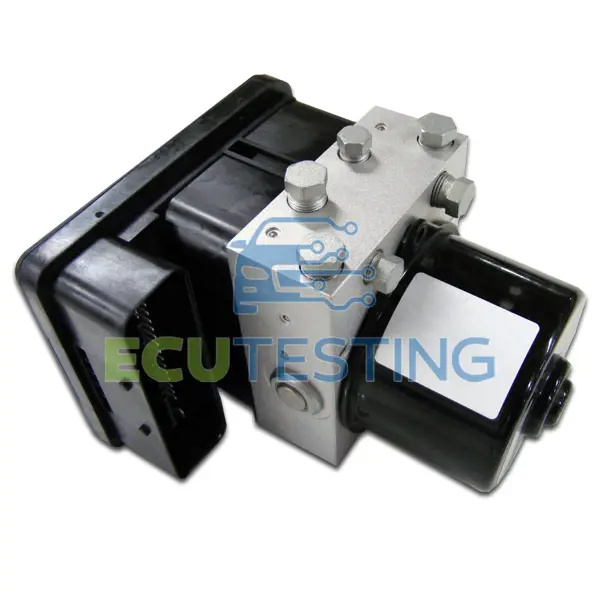 In order to rectify the issue, the entire ABS pump would need to be replaced. A brand new unit from the manufacturer is very expensive, will need programming onto the vehicle (adding additional labour costs) and only comes with a 1 year warranty. Fortunately there is a solution to this; we are able to rebuild your own unit for a small fraction of the price of a brand new unit and provide an unlimited mileage Lifetime Warranty*. We also carry re-manufactured units in stock (when available) that are far cheaper than a new unit from the dealer. These also come with a Lifetime warranty as standard.
Please select your vehicle from the list below to see prices and product info.
Affected Makes and Models:
This Brake Pressure Sensor fault is particularly common with the following vehicles, fitted with the ATE MK60 ABS pump (select your vehicle to see price and product information):
Common fault codes:
(These fault codes are the full list of common codes by vehicle manufacturer, if you have one of these fault codes then your Internal Brake Pressure Sensor is likely faulty)
01435 - Brake pressure sensor 1 (g201) electrical fault in circuit.
5E20 - Pressure sensor 1 electrical fault
C1210 - Brake pressure sensor
C1288 - Brake pressure sensor circuit failure
66-1 - Brake pressure sensor failure
C1288 - Pressure transducer main/primary input
C121D - Abnormality in brake fluid pressure sensor circuit
C1302 - Pressure sensor open circuit
5124 - Pressure sensor circuit
C1028 - Master cylinder pressure sensor fault
C0131 - Pressure sensor circuit malfunction
0130 - Brake pressure sensor signal missing
0134 - Brake Pressure Sensor - Incorrect offset
Test and rebuild:
All our rebuilt Internal Brake Pressure Sensor ABS units are fully tested on our HIL (Hardware-In-the-Loop) test rigs, this allows us to test your ABS unit under all driving and braking conditions. Units are tested both before and after the rebuild process to ensure that each rebuilt ABS unit performs as good, if not better than the original specification. All components used during the rebuild process are higher rated than standard, we ensure that the original design flaw is engineered-out during the rebuild process. So you can be assured that once your internal brake pressure sensor fault is rectified, it will not reoccur further down the line.
Programming:
Our rebuild service will retain all programming and coding information, so no need for a trip to the main dealer once the rebuild is complete. Simply refit, bleed the brakes and away you go.
Quality:
Our strict quality assurance procedures ensure we have the lowest work defect rates within the industry. We work closely with vehicle main dealers and independent specialists all over the globe, so you can be assured of our very high standard of workmanship.
Warranty:
Lifetime unlimited mileage*
How do I get my unit rebuilt?
Select your vehicle from the list above, then click on 'Get Yours Rebuilt'
Print the payment/booking confirmation email.
Package the ABS unit inside a sturdy box with plenty of packaging material (make sure you include your confirmation email in the box).
Send us your package by tracked courier (the shipping instructions are on the confirmation email).
Once received we will test, rebuild and return your unit with an unlimited mileage lifetime warranty. (if your unit turns out not to be faulty then we will refund your payment less a small testing fee and return shipping)
What if I don't want to pay up front?
This is not a problem, if you prefer this option then follow the following steps:
Fill in and submit this test form.
Print the booking confirmation email.
Package the ABS unit inside a sturdy box with plenty of packaging material (make sure you include your confirmation email in the box).
Send us your package by tracked courier (the shipping instructions are on the confirmation email).
Once received, we will test your ABS unit and call you to advise on the outcome of testing, if your unit is faulty and you choose to go ahead with the rebuild then we will take payment over the phone using a debit/credit card.
We will then rebuild your unit and return it to you with an unlimited mileage Lifetime warranty.
If you require further information regarding this Brake Pressure Sensor fault, then please contact us.