Renault Laguna / Megane 1.6 - 2.0 Siemens Engine ECU
Price: £185
Postage: £8.90 next day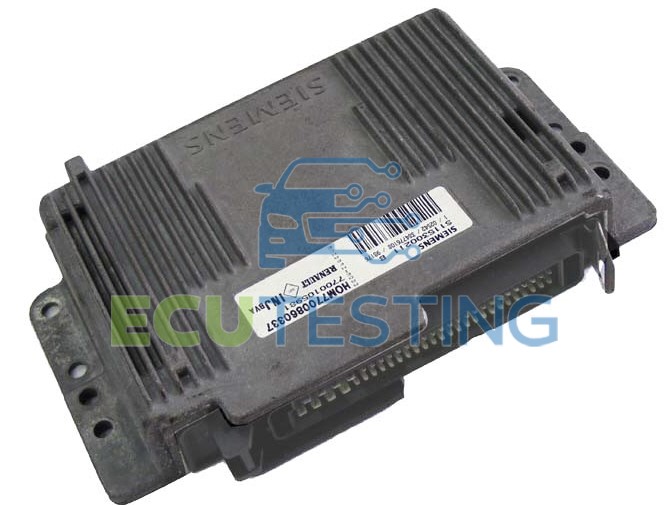 This ECU is a very common failure for Renaults, normally causing either a misfire on two cylinders or complete non start of the engine due to the immobiliser malfunctioning & water damage. Our remanufactured ECU's come with a two year unlimited mileage warranty, Renault are selling these ECU's for well over £800 + fitting and they only give a six month warranty so you really are getting a very good bargain here.
Key coding
There is no need to go anywhere near the main dealer to have the ECU coded to the car, this ECU has been pre programed by us so its just a simple case of plug it in and drive away.
Quality
We have sold many units to both Renault main dealers and independent Renault specialists so you can be assured of our very high standard of work. Pleae check our feedback comments.
We use higher grade than standard components when remanufacturing all ECU's enabling us to provide such extended warranty periods.
Common failure symptoms:
Misfire on two cylinders
Non start
hesitates / poor runing
Water Damage
Part Numbers:
S115300211 B / HOM7700860337
S105300201 F / HOM7700860337
S113722103 B / HOM7700105819
S105300103 B / HOM7700860319
S113717205 D / HOM7700863477
S113717205 A / HOM7700863477
S113717101 B / HOM7700868299
S113717113 D / HOM7700868304
S113717115 A / HOM7700864458
S113717115 B / HOM7700864458
S113717115 D / HOM7700864458
S115300203 A / HOM7700860319
S115300120 B / HOM7700860319
S115300120 C / HOM7700860319
S115303202 C / HOM7700867270
S115300202 A / HOM7700875745
S115303102 B / HOM7700110372
S113717129 A / HOM7700112443
S115300221 A / HOM7700875744
Please call us with your part number before you order this ECU.
Warranty
All our units come with an extensive 2 year unlimited mileage warranty as standard.
Money Back promise
If you are not completely happy with any component you purchase from us we will happily refund your money within 7 days of purchase, unused in original packaging.
We accept all major credit and debit cards
To order this ECU please call 01773 535638 9am-6pm mon-fri & 10am-5pm Saturdays.